Gay porn star Harry Louis shoots a huge cumshot in his thigh high socks and nylon football shorts
Bentley Race says: Harry Louis a huge worldwide gay porn star gets to know the Bentley guys on a recent trip to the Olympic city, London 2012. It was so cool getting to hang out with my mate Harry when I was last in London.
Harry and I spent the day out shopping on Oxford Street before heading back to my hotel. Harry wanted to try on some of the sexy sports gear I bought. Harry had bought much nicer stuff than I had, but he wanted to try out those thigh high socks.
I told him he could as long as he liked only if he stripped naked and let me take photos. I know that Harry is pretty popular in a load of porn scenes around the world and that he's really hot piece of man meat.
But I like shooting with Harry because he's actually a lot of fun to hang out with, even with his clothes on. Harry is the biggest cock tease, flashing his soft cock from under his thin nylon football shorts. I just wanted to jump on him right there and then.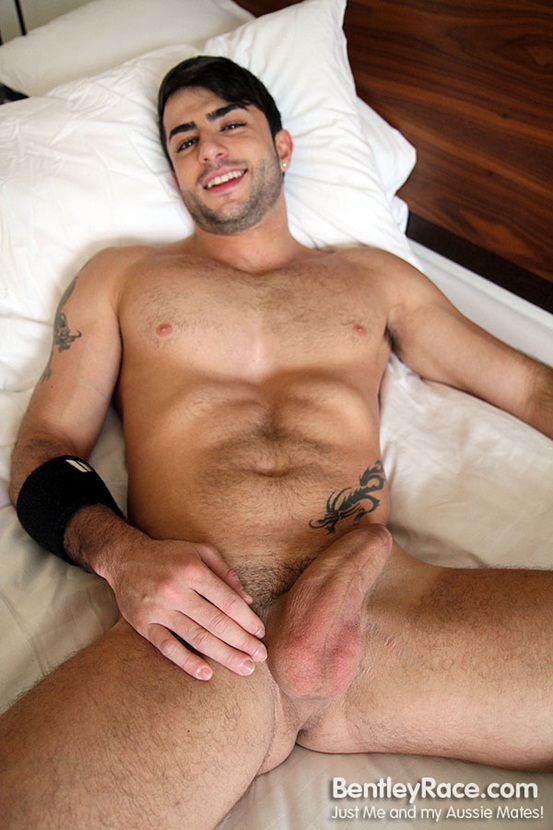 He was totally showing off that fat hard dick on my bed until he realised that a class trip was passing by outside my window. 'Yes, and to the right you'll see the world famous Big Ben, ooops sorry Big Harry! I almost fell over laughing when he leaped off the bed.
So here is Harry trying on some of my clothes and getting very horny at the same time. Later on Harry fucked my mouth with his fat prick and blew a huge cumshot all over my face. I love a man who comes with his own facial moisturiser. Man I love my hot mates. Get Harry's huge cumshot video at Bentley Race!