Morgan Black & Dominic Sol & Steve Vex at Cocksure Men
CockSure Men says: Morgan Black, Dominic Sol and Steve Vex get straight to business. The cocks come out and Morgan is the first to drop down and have a taste. Dominic joins him and Steve gets a hot double blow job. Morgan gets on his hands and knees and becomes the meat of the manwich with Steve fucking his face and Dominic eating his tasty hole. Morgan soon has a cock in each end, sucking Steve and getting fucked by Dominic at the same time.
Get this movie at Cocksure Men!
The ends switch and Steve pounds Morgan's ass while Dom feeds Morgan every inch he has to offer. Seeing Morgan getting it from both ends gets Dominic a little jealous. Sharing is caring though so Dom lays back to get fucked by Steve while he gets a mouthful of Morgan's sweet meat. Dominic is the first to cum, while still getting slammed by Steve. He shoots all over his tight abs.
Steve switches off with Morgan so he can give Dominic a warm mouthful of cum, which he does. Morgan wants a taste too and he and Dom swap cummy kisses. Morgan lays back on the couch and squeezes one out which Dominic laps up, sucking the last few drops out of Morgan's super sensitive cock.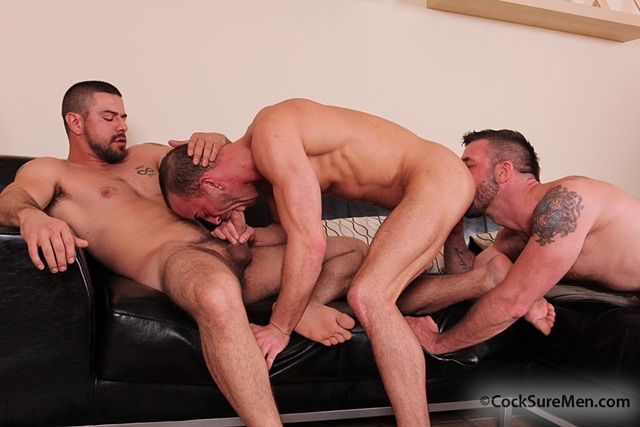 *